Tonight was the start of the overextended-for-TV MLB draft. The Pirates had two picks in the first round at #9 and #14. Number 9 was the compensatory pick for not signing hypocrite Mark Appel and 14 was their normal pick for collapsing down the stretch and underachieving.
The Pirates were heavily connected to Reese McGuire, the lefty-swinging high school catcher from Washington state, so much so that Neal Huntington personally flew out to check him out twice. So at #9, with McGuire sitting right there, the Pirates selected....Austin Meadows.
Yes, Meadows is a potential toolshed of 5-tool talent and he did semi-slip to the Pirates at 9. You never draft for positional need in MLB, due to the long development times, but here's the Pirates' depth chart at OF:
Majors
McCutchen -- thru 2017 with 2018 option
Marte -- thru 2018
Snider -- thru 2016
Tabata -- thru 2016 with 2017 option
Minors
Presley -- thru 2017, but he's a bench guy
Lambo -- intriguing rebound year
Polanco -- the next big thing, should be ready in 2015
Bell -- may be ready in 2016
Barnes -- injury prone, ton of tools, 2012 draft pick, may be ready in 2016
Now with Meadows, he's probably on the 2017-18 track with a ton of guys ahead of him. Yes, there will be injuries and attrition, but that is an incredibly deep field. Perhaps some are trade chips.
Then at 14, after his hometown Mariners passed on him, the Pirates popped Reese McGuire. They left Braden Shipley on the board and I'm sure there was some discussion about him, but it seemed like McGuire was a
fait accompli.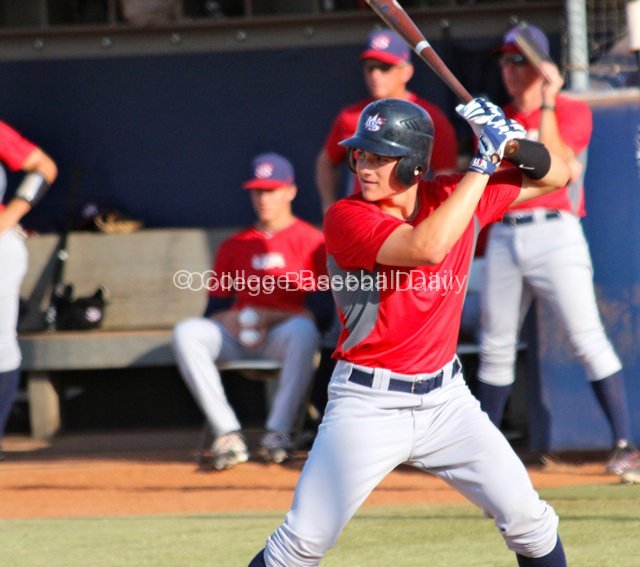 I'm leery of his offensive profile and I saw him backhand stab some pitches behind the plate, but the Pirates had a ton of eyes on him. He's probably 2018 ETA.
Here's my spur of the moment updated Top 10 prospects:
1. Gerrit Cole, RHP, AAA
2. Jameson Taillon, RHP, AA
3. Gregory Polanco, OF, A+
4. Tyler Glasnow, RHP, A
5. Nick Kingham, RHP, A+
6. Luis Heredia, RHP, A
7. Josh Bell, OF, A
8. Alen Hanson, SS, A+
9. Austin Meadows, OF, Unsigned
10. Reese McGuire, C, Unsigned
Both of these guys will sign and will sign for right about slot. They'll both report to the Gulf Coast League, probably around late June if I had to guess.
The Pirates' Top 10 is crazy deep right now. I pushed Dilson Herrera and Tony Sanchez out for these two and they're both having great seasons and potential.