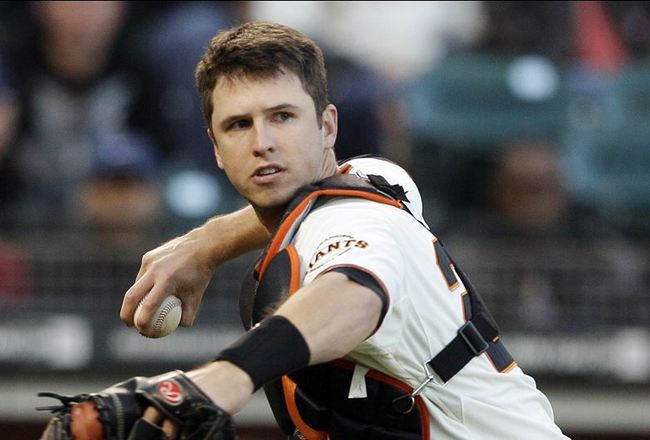 /
Back in 2008, right after the Pirates drafted Pedro Alvarez, I posted at Only Bucs a thread called "Did anyone else want Buster Posey -- or just me?" (or something like that). My contention was that Posey was a potential 5-tool catcher who was good enough to play some shortstop at Florida State. At no point did I envision him becoming the uber-stud that he is today, but I thought he had a lot of potential to be a #3 hitter and give you 15-20 HR's and a .290 average from the catcher position.
I was, for the most part, met with resistance on the idea. A few people wondered if his power would translate to the majors and one guy called him a "one year wonder" at FSU. Needless to say, one Rookie of the Year and one MVP later, it's clear that Posey would have been the correct choice.
If the Pirates selected Posey in 2008, how would that have affected recent Pirate history?
For starters, the Pirates would not have selected Tony "Lightning Rod" Sanchez in 2009. Perhaps they would have gone with a "safe, signable" pick like Zack Wheeler (my personal 2nd favorite for the Pirates that year behind Tyler Matzek [whoops]). I think 2010 would have still seen Taillon be the #2 choice, as the Pirates needed impact pitchers in the system and the front office wants to stock up on pitching. In 2011, things probably would have gone the same with the Gerrit Cole pick, too, as the top 4 selections were all pitchers. With Rendon injured, those were the 4 players in the first tier of talent (Cole, Hultzen, Bauer, Bundy).
By the time 2012 would have rolled around, assuming normal health the same in this theoretical exercise, what would the farm have looked like prior to draft day? If Wheeler were drafted in 2009, he would have started 2010 in Low A, 2011 in High A with a late season bump to AA, and then 2012 would have pitched in Double A. 2013 would see Wheeler on the precipice of joining the Majors in June/July, along with Cole. Taillon would be one level behind at AA. With Heredia also in the fold, that would give the Pirates a quartet of #1 or #2 caliber pitchers.
I would like to think that the Pirates, with that stock of pitchers and paucity of hitters, would not have selected Mark Appel in the 2012 draft. Yes, he was probably the "best available" talent at the time, but I think they would have been looking hitter. It was widely rumored that the Pirates had a pre-draft deal with David Dahl in place, but there is something about him that doesn't show me success. Rumors of not having a good baseball "motor" scared me off a little. I would like to think the Pirates would go for Addison Russell, the SS selected out of high school by the A's.
Assuming the Pirates went for Posey in 2008 and put him in High A in 2009 with a late-season promotion to AA, then a Double AA/Triple AAA assignment in 2010, Posey would have potentially started in the majors in mid-2011. Most likely in 2012 Posey would have been the #5 hitter, or perhaps even the cleanup hitter thanks to his switch-hitting ability to break up a lineup. Posey is a better pure hitter than McCutchen, but both of them are pure #3's. There's an outside chance that with all the struggles at leadoff that Hurdle would have put Cutch at #1 and Posey at #3 at some point in the season.
So the question is....who would play 3B for the Pirates in this scenario? The easy answer would be that Neil Walker, moved off of catcher due to wearing down in the minor league seasons and the "presence" of Ronny Paulino, was doing quite well as a 3B in the minors. It wasn't until the cleanup and utter implosion of Aki Iwamura that Walker was shifted to 2B, due to Andy Laroche at the majors and Alvarez in the minors.
Walker does not have prototypical power for a 3B, but who's to say that he wouldn't try to bulk up once he knew that 3B was his home for the foreseeable future? Maybe someone like Mercer or d'Arnaud would be the 2B...or even the erstwhile Brock Holt.
Here's something else to consider -- if the Pirates did have Cole, Wheeler, Taillon, and Heredia in the farm, perhaps they would have been more willing to deal one of them in a deadline trade to acquire an impact bat in 2012? It's an embarrassment of riches to have 4 pitchers of their caliber...surely they could have moved one in the right deal -- maybe for a Justin Upton-type of player?
Ultimately, it's just a daydream on a dull, dreary January day prior to start of another trek by the Pirates to escape the hinterlands of sub .500 baseball. But it's still fun to think about the possibility.